Media newlight on 19 Jan 2010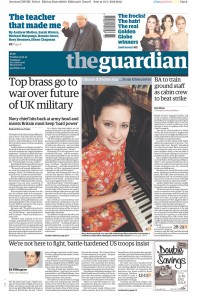 OK, for those of you wondering what's the fuss about, here are the vidoes of Mary-Jess Leaverland, who is on the front page of today's Guardian. Her victory in a "Chinese X Factor" competition is reported by several papers (Telegraph, Daily Mail, and Sun).
The TV singing competition is called Min Ge Chang Fan Tian (民歌唱翻天, literally means "stars from ordinary people singing over the heaven"), organised by a TV channel in Jiangsu Province.
The vidoes show the final round. At the begining the first video, three competitors were presented, then the second runner-up was out, followed by the duel between the last two who each sang the final song, before the phone-in results were announced (in the second video). Mary-Jess Leaverland was called by her Chinese name Li Meijie (李美洁) throughout.
This video shows the round before that, begining with the "grand entry" of the last three competitors. Mary-Jess Leaverland spoke Mandarin in her intro video (at 6'30"), but it looks when it came to singing, she still preferred English songs.